Garmin Forerunner 935 vs 945, Differences Explained!
The Forerunner is one of the most successful smartwatches by Garmin. But what are the differences between Forerunner 935 and 945?
The Garmin 945 is more expensive than the 935, which is to be expected. The 945 also comes with more features, better connectivity, more battery life, and it is overall a step above its 935 counterpart.
As loyal Garmin users, we're always excited when a new Garmin model comes out. Here, we're going to look at the difference between the Garmin 935 and 945 to help you make the right purchase decision.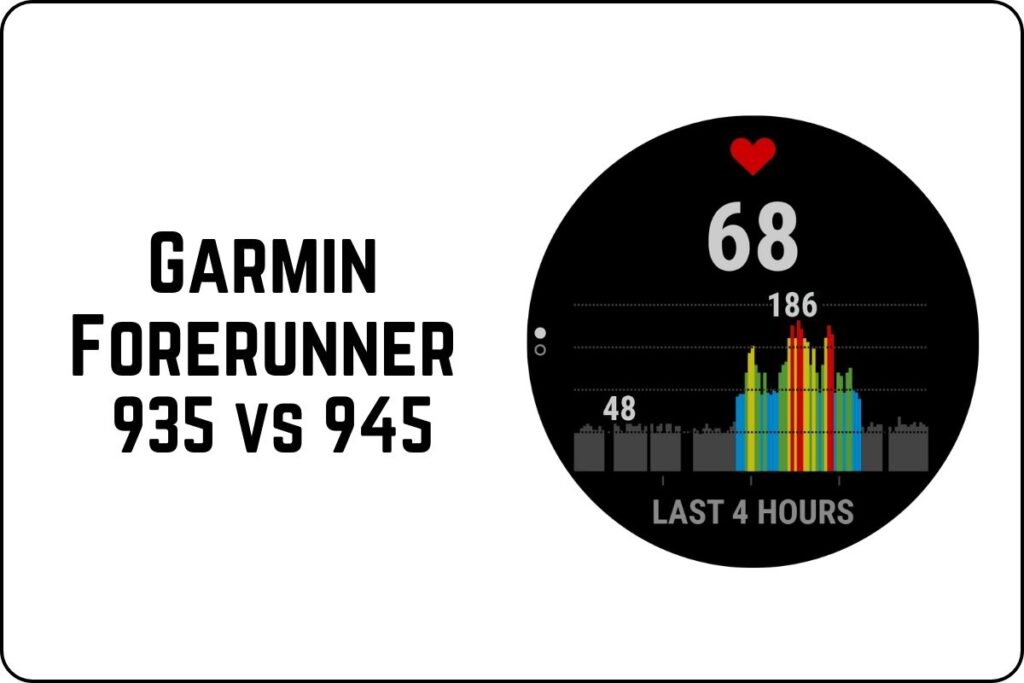 Differences Between the Garmin 935 and 945
Price
Garmin is a leader in the smart watch industry, and the Garmin Forerunner 945 and Garmin Forerunner 935 are two popular choices for watch enthusiasts.
While the Garmin 945 is $599 and the Garmin 935 is $499, some differences between these watches may influence a person's decision when choosing which one is right for them.
The Garmin Forerunner 945 has more features than its counterpart, such as Garmin Pay, music storage, and compatibility with Garmin's Connect IQ app.
The Forerunner 945 also has an HRC (heart rate calculation) feature, which you can use while running or training to help athletes target their ideal workout goals.
The Garmin Forerunner 935, on the other hand, lacks these features. Instead, this model focuses more on analyzing running data by offering virtual running partner apps, race predictors, and performance monitoring tracking information.
Both models come with all-day activity tracking with a battery life of up to 2 weeks in smartwatch mode and up to 40 hours in GPS mode.
Choosing between these two impressive Garmin watches ultimately comes down to body type optimization and preference between additional features versus long battery lifetimes – runners can only decide which model fits their specific needs best!
Weight
Garmin has long been a leader in the GPS watch space, and Garmin 945 and Garmin 935 are two of their top models.
While these Garmin devices both offer some of the latest technology when it comes to fitness tracking and sports management, there is one notable difference: weight.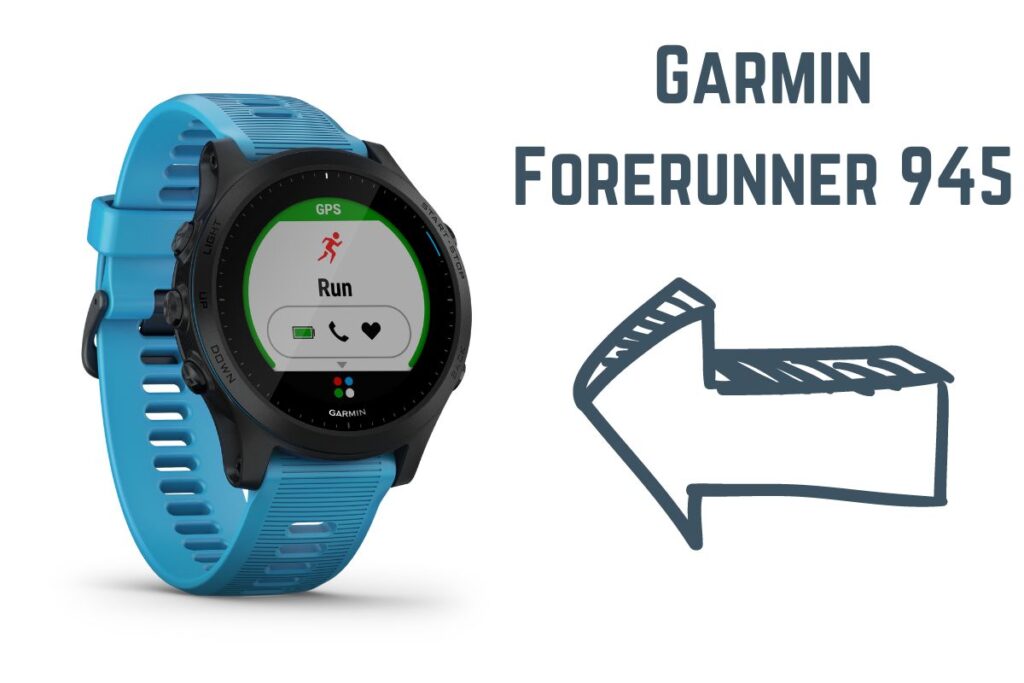 The Garmin Forerunner 945 weighs 50 grams, while its predecessor, the Garmin Forerunner 935, sits lighter at 49 grams.
This may not seem like much of a difference, but for severe athletes trying to optimize their performance, even the slightest weight difference can make a world of difference.
But no matter what watch you have on your wrist, Garmin's commitment to quality provides comfort, knowing that you'll get accurate tracking data no matter which model you go with.
The choice between Garmin Forerunner 945 and Garmin Forerunner 935 comes down to personal preference regarding weight versus features. Either way, you can rest assured knowing that you'll be well-equipped for all outdoor activities.
Lens
Knowing the lens differences between similar models of devices from the same brand is essential for any enthusiast.
For example, the lens in the Garmin Forerunner 945 is constructed differently than its predecessor – the Garmin Forerunner 935.
The lens in the Garmin 945 features Corning® Gorilla® Glass DX, a chemically strengthened glass material that provides superior scratch resistance compared to traditional glass lens materials.
Additionally, this lens coating enhances durability and eliminates lens damage that can occur while engaging in outdoor activities.
By contrast, the lens of the Garmin 935 was built using chemically strengthened glass which also offered enhanced durability results but not to the same degree as Corning® Gorilla® Glass DX.
Knowing these lens differences helps an individual make an informed decision regarding investing in a durable device used during active outdoor activities.
A hardy lens increases a device's longevity and offers peace of mind knowing that the device is protected against potential bumps and scratches more than other lens materials provide.
Size
The size differences between the Garmin Forerunner 945 and Garmin Forerunner 935 may look small, but they can significantly affect how well the two devices fit your wrist.
At first glance, the Forerunner 945 and 935 appear nearly identical in size, measuring 47mm x 47mm.
However, when you consider each device's thickness—the Forerunner 945 has a thickness of 13.7 mm while the Forerunner 935 measures 13.9 mm—it becomes clear that there are differences between these two models.
The added size of the 935 may not fit as comfortably on smaller wrists, so if you're looking for a slim yet powerful running watch, the Forerunner 945 might be more suitable for you.
Thanks to its smaller size, this watch can track your fitness goals with ease and comfort. Either way, size shouldn't be taken lightly when making such a necessary purchase!
Connectivity
Regarding connectivity, the differences between the Garmin 945 and the Garmin 935 are noteworthy.
Both watches come with Bluetooth® connectivity for transferring data wirelessly, as well as ANT+® connectivity for monitoring heart rate and other biometric sensors.
The Forerunner 945 is also equipped with Wi-Fi®, allowing you to sync your watch with compatible devices without connecting a cable.
This can be particularly useful for recording data from remote locations and eliminates the need to carry a USB cord on long-running trips.
On the other hand, the Forerunner 935 doesn't offer Wi-Fi® connectivity. It uses Bluetooth® Smart instead, which is limited in terms of range and speed when transferring data compared to the Wi-Fi® capability provided by the Forerunner 945.
As such, those who require more reliable wireless connectivity may prefer to opt for the latter model over the former. In either case, both watches offer enough connectivity options to meet most users' needs.
Music
Music lovers who are deciding between the Garmin Forerunner 945 and Forerunner 935 may want to consider their music differences.
While both watches provide users with access to their favorite tunes while exercising, there are a few key differences that must be considered.
For example, the 945 has built-in music storage – up to 1000 songs – so that users can listen directly from their watch without relying on a connected smartphone.
It also controls playing, pausing, and browsing albums, playlists, and radio stations.
On the other hand, the 935 does not have any internal music storage capabilities; rather, it allows users to connect to compatible smartphones via Bluetooth in order to stream music directly from the device.
Music lovers who desire the convenience of being able to store music directly on their watch will want to choose the 945 over its predecessor.
While each model offers access to music while working out, only the 945 provides internal storage as an additional benefit.
To conclude, if you need access to your favorite tunes while on the go, both models provide great solutions; however, those seeking direct Music Storage should opt for the Garmin Forerunner 945 over its predecessor.
Safety and Tracking
When tracking your runs, safety should always be a top priority. Thankfully, two of the most popular tracking watches on the market – the Garmin Forerunner 945 and Forerunner 935 – offer tools to ensure easy tracking and improved safety.
Although both watches can keep track of indoor and outdoor running stats, the 945 has several features that make it stand out in terms of tracking and safety.
While both watches come with LiveTrack and Group LiveTrack, which allows friends and family to know where you are while running, only the 945 offers Incident Detection, which sends an alert to emergency contacts if you have an accident or fall while running outside.
Furthermore, while the 935 comes with just Group LiveTrack, the 945 also has Live Event Sharing, which enables users to share route information before they start their run so that people can track them in real time.
Therefore, for tracking and safety, there are some important differences between the Garmin Forerunner 945 and Forerunner 935. Ultimately, it's up to you which watch is the best option for your individual needs – but by considering all these factors, you can make an informed decision!
Key Takeaways
The most significant difference between the Garmin 935 and the 945 is price.
The 935 costs $499, while the 945 costs $599.
They also have different lenses. The 935 has chemically strengthened glass, while the 945 has the Corning® Gorilla® Glass DX.
They also differ in terms of weight and size dimensions.
Music is also a key difference. While the Forerunner has its own music storage, the 935 can only access music on your phone.